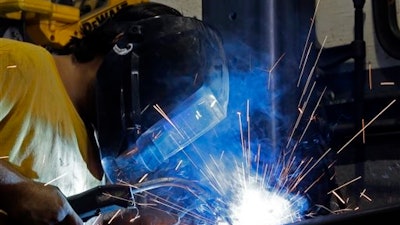 AP file
WASHINGTON (AP) — Falling auto production fueled a broader decline in U.S. industrial output in May, a potentially worrying sign that manufacturers face economic challenges.
The Federal Reserve said Wednesday that industrial output — which includes factories, mines and utilities — dropped 0.4 percent from April. The decline reversed the 0.6 percent gain seen between April and March, an improvement that provided some evidence that the industrial economy was turning around after a period of extremely weak performance.
Sluggish growth abroad has dampened the demand for American-made goods, while lower energy prices caused a pullback on pipeline and equipment orders at many U.S. factories. The setbacks for manufacturers have limited overall economic growth.
There have been signs that many factories are adapting and that their outlook was improving. But the latest report on industrial output suggests the sector is still struggling.
Manufacturing tumbled 0.4 percent last month, as motor vehicle production tumbled 4.4 percent. Output also fell at electronics, furniture, clothing and chemical factories.
Mining production rose 0.2 percent, helped by a rebound in coal. But mining remains down 11.5 percent from a year ago as lower energy prices have halted oil and gas drilling.
Utilities slipped 1 percent.
The fall in manufacturing output contrasts with two separate reports that indicate factory activity is rebounding.
The Institute for Supply Management said its manufacturing index showed expansion for the third straight month, rising to 51.3 in May from 50.8 in April. Any ISM reading above 50 signals growth.
The Empire State manufacturing index released Wednesday by the New York Fed showed factory activity expanding in June.