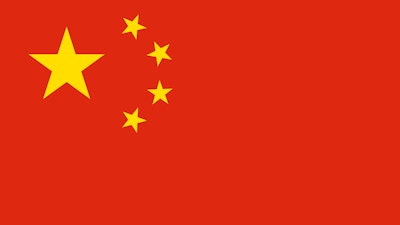 BEIJING (AP) — China's auto sales growth hit a five-month high in May, driven by the popularity of SUVs, an industry group said Monday. Sales rose 11.3 percent over a year earlier to 1.8 million vehicles, according to the China Association of Automobile Manufacturers. Total vehicle sales, including trucks and buses, rose 9.8 percent to 2 million units.
The CAAM said SUV sales, whose explosive popularity has helped to buoy the industry, rose 36.3 percent to 627,000. China's auto sales growth cratered last year, jolting global brands that are looking to the world's most populous market to drive revenue.
Sales revived after the government cut sales taxes, but longer-term growth is expected to moderate from the double-digit rates of recent years. For the first five months of the year, auto sales rose 7.8 percent to 9.2 million units. SUV sales rose 45 percent to 3.2 million.
Sales by Chinese brands rose 12.9 percent to 716,900. They have been clawing back market share from bigger global rivals on the explosive popularity of low-cost SUVs, the fastest-growing market segment.
Sales by German brands rose 19.6 percent in May. Those by Japanese brands increased 17.7 percent and those of U.S. brands by 11.2 percent.
General Motors said sales of GM-brand vehicles by the company and its Chinese manufacturing partners rose 16.9 percent in May to 295,282. Sales in the first five months of the year gained 4.3 percent to a new record for the period of 1.5 million. Ford showed a slight decline in May sales to 88,248 vehicles from the previous year's 90,553. The company said year-to-date sales were up 5 percent at 479,542.
Nissan Motor Co. sales rose 3.4 percent to 106,100. For the first five months of the year, sales were up 1.3 percent at 500,900. Toyota Motor Co. sales increased 11.2 percent to 102,900, while year-to-date sales were up 12 percent at 495,000.
BMW AG said sales of BMW and Mini-brand vehicles rose 7.1 percent to 40,123.