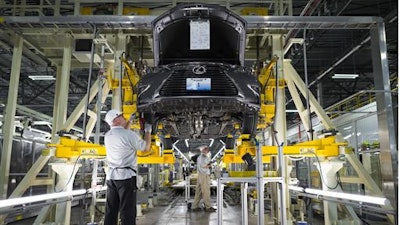 Joseph Rey Au/Toyota via AP
GEORGETOWN, Ky. (AP) — Toyota is marking the 30th anniversary since work started on the Georgetown plant and has a ceremony scheduled Wednesday to celebrate.
Toyota Motor Manufacturing Kentucky Inc. is unveiling additions to its visitor center at the ceremony. Additions include the first Lexus produced in America, a new distracted driving simulator with a virtual reality driving experience and a music video creation experience using sounds and images from a Toyota production line.
Officials plan to tout a major plant makeover, including new technologies; construction of a new engineering building and addition of 300 engineers; and a robot made by local students and efforts to attract students to science, technology, engineering and math programs.
The Georgetown plant employs 8,000 workers and makes the Camry, Camry Hybrid, Avalon, Avalon Hybrid and Lexus ES 350.