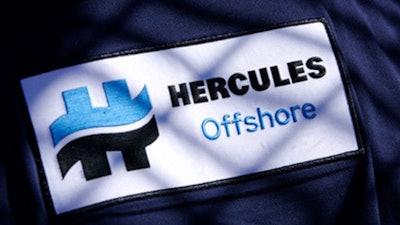 Hercules Offshore
NEW YORK (AP) — Oilfield services company Hercules Offshore filed for Chapter 11 bankruptcy protection, the second time it's done so in less than year.
This time, however, the company is selling assets to pay off investors.
Hercules transferred the right to acquire the rig, formerly named Hercules Highlander, to a subsidiary of Maersk Drilling. Maersk Highlander UK Ltd. succeeds to the right to take delivery of the rig and will settle the final payment of approximately $196 million with Jurong.
In August of 2015, the company filed for bankruptcy and emerged in November after restructuring with a new $450 million credit facility. That filing showed that the Houston company had $1.3 billion in debt and $546.3 million in assets, at the time.
Hercules completed its first restructuring in early November.
On November 6, 2015, Hercules completed its initial financial restructuring under Chapter 11 of the U.S. Bankruptcy Code with a new $450 million senior secured credit facility in place. While there has been a slight recovery in crude prices, a barrel broke $50 for the first time this year, there has been tremendous damage in the energy industry.
"Since this time, the ongoing decline in oil prices, the consolidation of its U.S. customer base and the addition of new capacity have negatively impacted dayrates and demand for Hercules's services," the company said Friday.
The company had wanted to sell more of its assets as part of a recovery but that, "did not yield results that would have been better for stakeholders."
The pullback by energy companies is continuing. Last week, the oilfield services company Baker Hughes Inc. said that the number of rigs exploring for oil and natural gas in the U.S. dropped again to 404, another all-time low.
Under the new restructuring plan, Hercules plans to maintain employee wages and benefits while paying creditors. If approved, shareholders will receive cash recoveries over time, including a payment of $12.5 million upon completion of the bankruptcy process and the sale of assets.