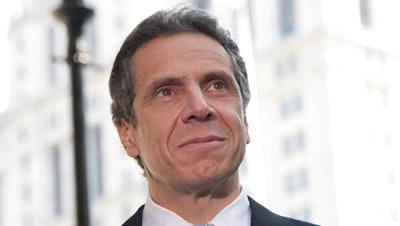 Flickr
ALBANY, N.Y. (AP) — A state oversight board controlled by the New York Legislature and Democratic Gov. Andrew Cuomo is set to authorize spending another $485 million to complete a solar panel production plant, the centerpiece of Cuomo's "Buffalo Billion" economic development program.
The Public Authority Control Board vote scheduled for Wednesday comes amid questions about the future of solar business after a major player last month filed for bankruptcy court protection and a lack of details about how the money will be spent.
The $750 million SolarCity plant being built with public funds is nearing completion and the money being considered by the board is believed to be the balance of the state's commitment to not only build the million-square-foot factory, but fit it out with manufacturing and other equipment.
But Fort Schuyler Management Corp., a not-for-profit arm of the State University of New York, has not responded to inquiries from The Associated Press about specifics of how money is being budgeted, what equipment is being purchased and who the vendors are. Asia and Europe, where most of the world's solar modules are produced, are also primary sources of manufacturing equipment.
Assembly Speaker Carl Heastie, a Democrat who appoints one of the three PACB members, said Tuesday that, "I think there' a general belief that it's a worthwhile project. But his office was still waiting for answers to some questions.
"We're just looking at the merits of the project. We have questions ourselves, in consultation with the state comptroller, and once we get those questions answered I think we'll be fine," he said.
It's unclear, though, what role state Comptroller Thomas DiNapoli has in the process. Though he has the authority to audit broad segments of state and local government, his office said power to oversee SUNY's capital projects was taken away by the Legislature in 2011, over his objections.
Republican Senate Majority Leader John Flanagan did not return AP requests for comment Tuesday.
As for whether Fort Schuyler is subject to state open records laws and greater transparency in its dealings, Cuomo said Tuesday "he doesn't know the law well enough" to say.
But Robert Freeman, the longtime executive director of the state Committee on Open Government, issued an opinion in 2015 that Fort Schuyler is an agency required to comply with the state Freedom of Information Law.
In the meantime, word about the status of the Buffalo plant has come largely from SolarCity executives briefing investors during quarterly earnings calls.
In a February update, CEO Lyndon Rive told industry analysts that the timetable for equipping the plant has slipped.
"The building should be completed at the end of this quarter probably early Q2. We'll then start moving in equipment. As some of the equipment has longer lead time than we originally expected and so that equipment is going to be arriving around Q2, Q3 next year," he said. "Because of that it will actually — the effect of that then we can delay the purchasing of some of the other equipment." He added that "about half" of that capital expenditure will now be in 2017.
SolarCity, whose chairman is PayPal and Tesla Motors co-founder Elon Musk, took hits to its share price earlier this month when it reported losing $283 million in the first quarter of this year and again scaled back projections for future business. Last month, competitor SunEdison's financial troubles forced it to seek Chapter 11 bankruptcy court protection. SolarCity has committed to investing $5 billion over 10 years, hiring almost 1,500 workers at the plant for five years and employing at least 2,000 more people across the state in exchange for use of the state-owned plant.
Cuomo said he believes the control board will approve the new funding, despite a federal investigation of economic development programs in the state, including one of his former top aides and a lobbyist with longtime connections to Cuomo.
"Well, there are questions about what one or two people did. All right. Let's find out what those one or two people did. We'll get the facts. We'll then respond accordingly," he said. "If somebody did something wrong I'll be the first to throw the book at them. But that doesn't go to the essence of the Buffalo Billion program."
___