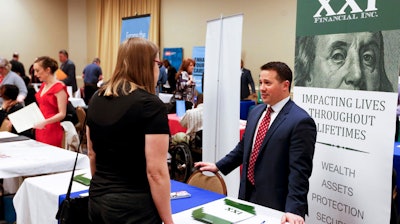 AP Photo/Keith Srakocic
WASHINGTON (AP) — U.S. employers pulled back on hiring in April, adding 160,000 jobs, the fewest in seven months, after a streak of robust monthly gains. The unemployment rate remained at a low 5 percent, roughly where it has been since fall.
Last month's hiring gain marked a drop from the average increase of 200,000 over the past three months. Weak U.S. economic growth may be making some employers more cautious about hiring.
Still, the government's report Friday pointed to a U.S. job market that continues to generate steady hiring and to outperform those of most other major countries.
Worker pay also showed signs of picking up. Average hourly pay rose 2.5 percent in April from a year earlier, above the sluggish 2 percent annual pace that has been typical for the past six years.
Patrick O'Keefe, director of economic research at the accounting and advisory firm CohnReznick, suggested that April's slower job growth reflects the broader slump in economic growth. The U.S. economy expanded at just a 1 percent annual rate over the past six months.
"It's not going to set off cheers or jeers," O'Keefe said of the jobs report.
The proportion of adults who either have a job or are looking for one declined in April after four months of increases. The increase in job seekers had been a positive sign because it suggested that many Americans became optimistic enough to resume looking for work amid signs of stronger hiring.
The slowdown in economic growth in the United States and overseas has led to volatility in financial markets and complicated the Federal Reserve's plans to gradually raise interest rates.
Fed policymakers have signaled that they could raise rates twice this year. But a hiring slump, if sustained, could disrupt those plans.
"By adding to signs that economic weakness is lingering into the second quarter, these disappointing numbers greatly reduce the likelihood of the Fed hiking rates this side of the presidential election," Chris Williamson, chief economist at Markit, wrote in a research note.
In its report Friday, the government also slightly revised down its estimate of job growth for February and March by a combined 19,000, although each month's gain remained at a healthy level above 200,000.
April's slower job growth might not signal a sustained pullback. Hiring slumped as recently as January only to snap back in the following months.
Across industries, job growth fell sharply last month in retail, construction and governments, and remained weak in manufacturing. Retailers shed 3,100 jobs, down from an average gain of 52,500 in the first three months of the year.
Unseasonably cool weather in the Northeast may have delayed shopping for summer clothes, causing stores to cut workers.
Construction job gains slipped to 1,000 from an average of 24,000, and governments shed 11,000 after adding a monthly average of 16,000 in the first quarter.
Manufacturing added a slight 4,000 jobs, after two months of cutbacks.
Job growth in higher-paid industries, such as management consulting and computer systems, picked up from March. Gains in education and health care remained steady, climbing 54,000 last month, above its three-month average of 49,000.
The U.S. job market is still outperforming many of its counterparts overseas. The unemployment rate in the 19 European nations that share the euro currency is more than twice the U.S. rate at 10.3 percent. Some of those countries are faring better, though: Unemployment rates in Germany and the Czech Republic are both below the U.S. rate.
Japan's economy contracted in the final quarter of last year, though its jobless rate is also below the United States'.
China's economy grew 6.9 percent last year, its slowest pace in a quarter-century. But it expanded 6.7 percent from a year ago in the first quarter.
In recent months, slower economies overseas and a stronger dollar have cut into U.S. exports of factory goods. Low oil and gas prices have also caused energy companies to sharply curtail the construction of new rigs, lowering overall business spending.
Consumers have also been cautious. Despite job growth and lower gas prices, many people have stepped up their savings rather than their spending.
Still, there are some signs that the economy could be improving. Auto sales picked up in March, suggesting that Americans are still willing to make large purchases.
And a private survey found that services firms, which include retailers and restaurants as well as professional services such as engineering, expanded in April at the fastest pace this year.