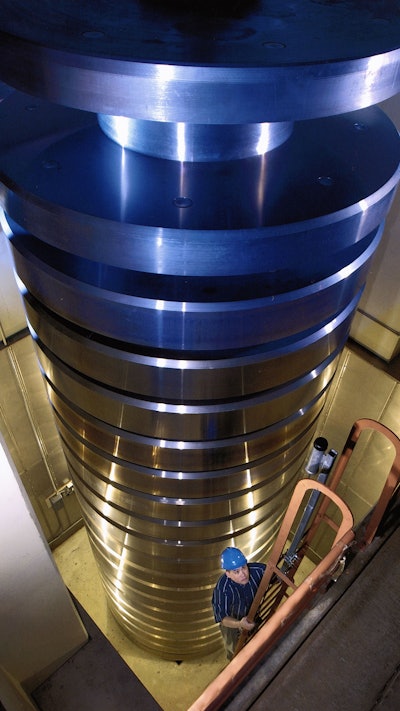 NIST
It's official, NIST's 4.45-million newton (equivalent to one million pounds-force) deadweight machine – the largest in the world – is back in one piece after a colossal 16-month effort to overhaul the system for the first time in 50 years.
The year-and-a-half-long saga involved dismantling, cleaning, restoring, and recalibrating about half of the stainless steel discs in the three-story stack of weights. It marked the first time the device had been taken apart since its original installation in 1965.
"This was an extremely complicated, time-consuming, labor-intensive operation with major risks and decisions at every turn," says Mass and Force Group Leader Zeina Kubarych. "From planning to teamwork and coordination, to risk mitigation and execution, this was a remarkable achievement and a success to be proud of.
"Perfectly orchestrated restoration of one of NIST's and the world's metrology treasures with no injury to personnel and no damage to property – a big weight off my shoulders!"
The deadweight system consists of a calibrated "T-shaped" lifting frame and a stack of 19 stainless steel discs about three meters in diameter (a little less than ten feet) when assembled. Their average mass is about 22,696 kg (just over 50,000 pounds) each.
Lab officials from NIST visited the machine this month, just a few days after the last bolts were torque-wrenched into place. They received a tour of the facility, which includes a control room above the weight stack and a hydraulic ram that moves the weights up and down.
At the event, Carl Williams, the Deputy Director of NIST's Physical Measurement Laboratory (PML), introduced and congratulated project leader Rick Seifarth, whose team orchestrated the refurbishment process and performed the calibrations of the larger masses. Seifarth's team includes PML's Kevin Chesnutwood and Sam Ho.
Force metrology customers who rely on this unique device include U.S. aerospace manufacturers, U.S. military laboratories, and several top-end commercial force calibration labs.
For more information about the restoration of NIST's million pounds-force deadweight machine, read "Restoration Begins on NIST's Million-Pound Deadweight Machine" and "Progress Report with Photos: Restoration of NIST's Million-Pound Deadweight Machine."