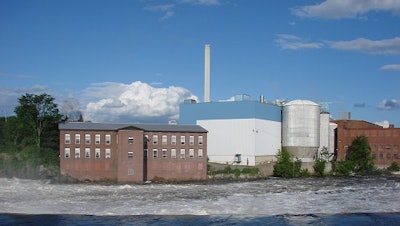 Wikipedia
PORTLAND, Maine (AP) — The Madison Paper Industries mill will close by the end of May, representing the fifth mill to cease manufacturing in little more than two years in Maine, officials said Monday.
Nearly all 214 employees in Madison will lose their jobs, but a handful of maintenance workers will be retained to maintain buildings and a hydro facility after June 1, said Ruud van den Berg, vice president of UPM Paper's division for North America and Europe.
A glut of paper has reduced demand for the type of paper made in Madison, and recent duties targeting subsidized paper from Canada didn't have as big of an impact as the operators had hoped, he said.
"The major reason obviously is the continued decrease of paper demand," he said Monday. "There is an unhealthy supply and demand balance in the paper industry."
The announcement was the latest blow to Maine's paper industry.
Maine's paper manufacturing industry now employs about 4,500 people — less than half of the nearly 13,000 people employed as recently as the early 2000s, according to the Maine Pulp and Paper Industry.
The former Great Northern Paper mill in East Millinocket ended production in January 2014. That was followed by closings of the Verso mill in Bucksport, Lincoln Paper and Tissue, and Expera Specialty Solutions in Old Town.
"This unfortunate situation illustrates the challenges Maine companies face in the national and global marketplace," Maine Gov. Paul LePage said, pointing out the need for lower taxes and energy costs and to create a welcoming atmosphere for businesses.
The Maine Pulp & Paper Association called Monday for expanded natural gas pipeline capacity to lower energy costs, along with transportation infrastructure improvements, investments in research and development and lower taxes to help the industry.
"We owe it to the 214 employees deeply affected by today's announcement, and the remaining papermakers employed in mills across the state, to take action," said spokeswoman Kelsey Goldsmith.
Van den Berg visited the Madison paper mill Monday, and Madison Paper Industries CEO Russ Drechsel spent the day discussing the news with workers.
The decision to close the mill was made after the corporate parents, Finland-based UPM-Kymmene Inc. and New York Times Co. subsidiary Northern SC Paper Corp., decided there was no path to profitability for the mill that makes supercalendered paper — thin paper that's used in magazines, catalogs and directories.
Bankrupt Verso Paper in Jay and operators of the Madison mill had won their trade case in which they accused Nova Scotia of providing illegal subsidies to the Port Hawkesbury Mill. But the duties didn't do enough to make the Madison mill competitive, van den Berg said.
U.S. Sens. Angus King and Susan Collins sent a letter Monday to Commerce Secretary Penny Pritzker asking for her to lead a multi-agency Economic Development Assessment Team to create strategies for economic development in Maine's rural areas.
The closing will leave seven operational mills in Maine. Besides Verso in Jay, the others are Sappi mills in Skowhegan and Westbrook; Twin Rivers in Madawaska; Woodland Pulp and St. Croix Tissue in Baileyville; Catalyst Paper in Rumford; and Cascades Auburn Fiber, Goldsmith said.