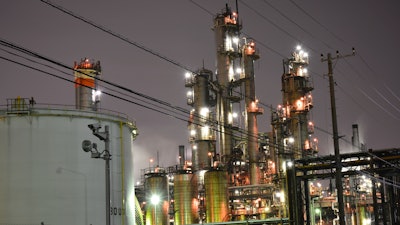 The Energy Information Administration recently unveiled its Short-Term Energy Outlook, with findings that included:
North Sea Brent crude oil prices averaged $32/barrel in February, a $1/barrel increase from January.
Brent crude oil prices are forecast to average $34/barrel in 2016 and $40/barrel in 2017, $3 and $10/barrel lower than forecasted last month. The lower forecast in prices reflects oil production that has been more resilient than expected in a low-price environment and lower expectations for forecasted oil demand growth.
Forecast West Texas Intermediate (WTI) crude oil prices are expected to average the same as Brent in 2016 and 2017. However, the current values of futures and options contracts suggest high uncertainty in the price outlook.
For example, EIA's forecast for the average WTI price in June 2016 of $35/barrel should be considered in the context of recent Nymex contract values for June 2016 delivery suggesting that the market expects WTI prices to range from $24 to $58/barrel (at the 95% confidence interval).
S. crude oil production averaged an estimated 9.4 million barrels per day (b/d) in 2015, and it is forecast to average 8.7 million b/d in 2016 and 8.2 million b/d in 2017. EIA estimates that crude oil production in February averaged 9.1 million b/d, which was 80,000 b/d below the January level.
Natural gas working inventories were 2,536 billion cubic feet (Bcf) on February 26, 46 percent higher than during the same week last year and 36 percent higher than the previous five-year average (2011–15) for that week. EIA forecasts that inventories will end the winter heating season (March 31) at 2,288 Bcf, which would be 54 percent above the level at the same time last year. Henry Hub spot prices are forecast to average $2.25/million British thermal units (MMBtu) in 2016 and $3.02/MMBtu in 2017, compared with an average of $2.63/MMBtu in 2015.
Natural gas is expected to fuel the largest share of electricity generation in 2016 at 33 percent, compared with 32 percent for coal. This would be the first time that natural gas provides more electricity generation than coal on an annual average basis. In 2017, natural gas and coal are both forecast to fuel 32 percent of electricity generation.
For renewables, the forecast share of total electricity generation supplied by hydropower rises from six percent in 2016 to seven percent in 2017, and the forecast share for other renewables increases from eight percent in 2016 to nine percent in 2017.