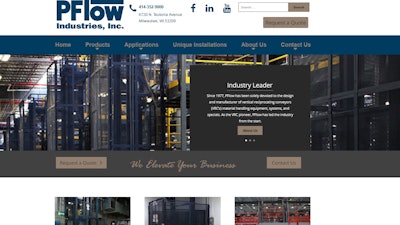 PFlow Industries, Inc. (Milwaukee, WI) has developed an entirely new company website designed to improve the user experience for customers, dealers and interested parties seeking information on the company and its Vertical Reciprocating Conveyors (VRCs). The new PFlow.com website features easier navigation, better information and interactive features, allowing site visitors to more thoroughly learn about PFlow VRCs and the product variations that are most relevant to their specific vertical lifting application. Features include:
Seamless Navigation. Realigned and condensed tabs to find content faster.
Responsive Design. Pages that conform to all devices - desktop, laptop, tablet or smartphone.

Modernized Layout. Flat design to embrace user screen parameters and ensure faster loading.

Improved Features. Refined interactive pages for easier request submittal.

Updated Content. To find the latest news and innovations regarding PFlow and the vertical material handling industry.
PFlow offers custom-engineered hydraulic, mechanical and fully automated systems -- lifting 100 lbs to 100 tons. VRCs transport materials between two or more levels for mezzanines, balconies, through-floor, interior and exterior applications. VRC's conform to ASME B20.1 safety standards and have their own national code; PFlow Industries guarantees code compliance in every state.
www.pflow.com; 414-352-9000