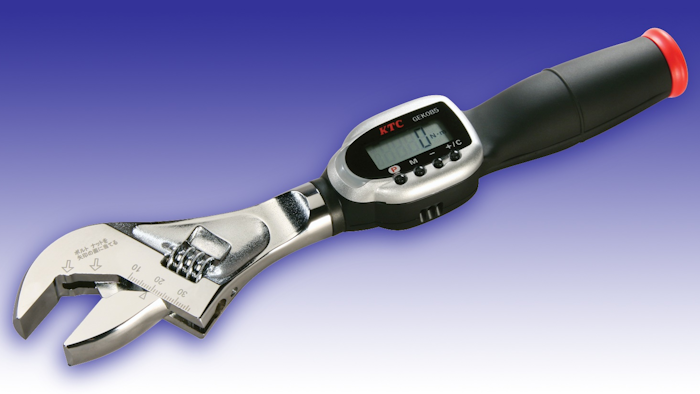 Digital Adjustable Torque Wrenches from IMADA, Inc. (Northbrook, IL) expand torque applications to places where a socket wrench cannot work. They feature forged steel jaws and a unique power sensor in the handle which accurately detects and analyzes load applied to the grip, regardless of hand position. Specially designed jaws maintain constant working length whether open or closed, to enable precise torque measurement.
Torque presets enable users to tighten within 10% of the preset torque value with an intermittent signal at 90% and a continuous signal at 100% of the preset torque value using LED and audible alerts. Pass/Fail mode counts the number of fasteners tightened within programmed high and low torque limits. Powered by a CR2354 lithium coin battery.
Other features include:
High accuracy ±1.5% F.S.
Peak, peak with auto zero reset and Real Time modes.
Five programmable torque presets ideal for frequent operations.
Selectable units, lbf-in, lbf-ft, kgf-cm, N-m.
ISO-6789 compliance.
Calibration cert traceable to NIST and carrying case included.
www.imada.com; 847-562-0834