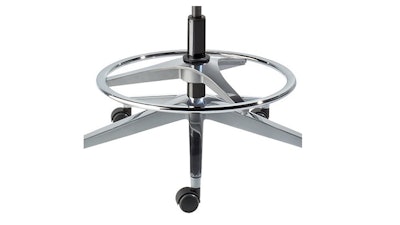 BioFit Engineered Products (Waterville, OH) has introduced a new adjustable footring for its seating products that is designed to increase ergonomic support for users and facilitate cleanliness in technical work environments. Designated the "AFP adjustable footring," the component offers an alternative for seating used in today's specialized work settings over traditional footrings developed decades ago.
The AFP adjustable footring is fabricated of a chrome-plated, 22" diameter tubular steel ring with an oval profile, and polished cast-aluminum spokes with a fingertip-control adjustment hub. The diameter is larger than traditional footrings, complementing BioFit seating models such as the MVMT chair, which has an abnormally expansive 2-inch seat slider range. The correlation of the larger footring with the extended slider range allows users to maintain comfortable, ergonomic positioning while conducting specialized tasks. Once adjusted, the footring locks firmly in place, as it is designed to support 350-lb. users and serve as a step up into high-seat-height chair models. Additional features include:
A seamless construction, and absence of underside reinforcing ribs found on traditional footrings, which enables faster and more efficient cleaning.
No screw-type adjustment knob, eliminating an area historically difficult to clean and prone to dirt and bacteria buildup. Rather, its fingertip-control adjustment hub minimizes dust and grime buildup and takes less time to sanitize to workspace requirements.
www.biofit.com; 800-597-0246