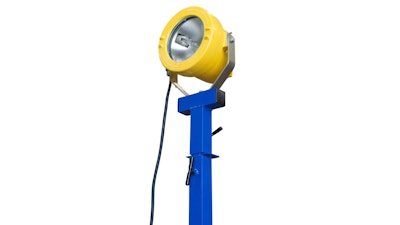 Larson Electronics (Kemp, TX) has announced the release of a 70 watt metal halide explosion proof quadpod mounted work light. The EPL-BS-70-TP1-100 explosion proof work light provides 7,000 square feet of work area coverage with 5,500 lumens of light. This portable light tower has a removable light head assembly mounted on top of a four leg aluminum quadpod equipped with wheels for easy positioning from one work space to another. Other benefits include:
The ability to extend this quadpod to twelve feet and collapse it to five and a half feet.
A removable light assembly, completed by releasing the hand knob and sliding the light and mounting bracket off of the center support while the legs can be collapsed, aiding in deployment, storage and transport.
A light fixture construction of thick copper free aluminum alloy, powder coated with a thermoset finish, making it ideal for use in marine environments.

Assembly includes a 70 watt metal halide bulb, internal ballast, and an aluminum finished reflector. The lens is constructed of thermal shock and impact resistant tempered glass.
The metal halide lamp has no filament and is highly resistant to damage from shocks and vibrations, reducing the chances of lamp failure if the unit is accidently knocked over.
www.larsonelectronics.com; 800-369-6671