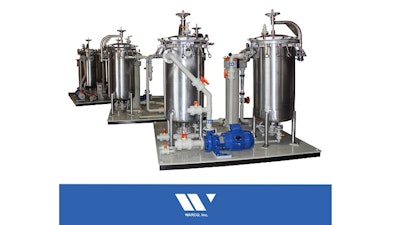 WARCO, INC. (Wood Dale, IL) will display advanced filtration equipment and media in Booth #620 at this year's SUR/FIN show in Cleveland, June 4th – June 6th The WARCO Filter line encompasses lined or thermoplastic disc, cartridge, standard bag and high performance pleated element systems. Systems are equipped with heavy duty, all thermoplastic seal-less mag-drive pumps to protect precious plating solutions. WARCO offers high performance filtration systems, elements and media including;
Series GFL Copolymer Lined Disc Filtration Systems.
Series GH Absolute Rated Pleated Filtration Systems.
Series GF Disc, Cartridge or Carbon Canister Filtration Systems.
Precious metal recovery systems.
CHEMTREX Filter Media: Disc media, cartridge (wound, melt-blown, absolute pleated & carbon), bags (felt, multi-layer, carbon & oil absorbing) and absolute rated pleated bags.
www.warcoinc.net; 847-549-8695