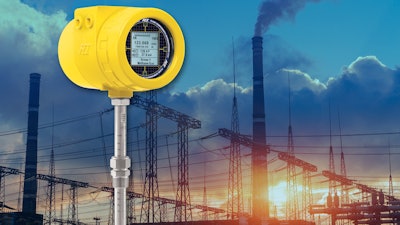 Designed to target the needs of engineers at combined cycle gas turbine (CCGT) electric power generation plants, the ST100 Air/Gas Thermal Flow Meter from Fluid Components International (FCI; San Marcos, CA) features a fast-response direct mass flow sensor for the close ratio control of natural gas and air feeds to support turbine safety and improve efficiency. Both the air feed and the flow rate of natural gas must be measured accurately, and even more importantly, repeatably accurate and reliably. The flow meter also must operate over a wide turndown range for safe startups and restarts of the gas turbines. Installing a direct mass device such as FCI's ST100 Thermal Flow Meter in the process control loop offers a number of advantages:
It allows the operator to achieve a direct ratio of control between the natural gas, the air and waste gas fuels without any corrections for pressure, temperature or density, which requires extra components and possibly extra offsets and failures.

It measures the mass flow rates of both natural gas and air in line sizes from small 1-inch gas pipes to large 2000-x-2000-mm air inlet ducts.

It can be applied not only on CCGT plant cold fresh air intakes, but also at preheated or combustion air feeds to the gas turbines. Their SIL rating is based on certified Failure Mode Effects and Diagnostic Analysis (FMEDA) reports, assuring plant operators of highly reliable and repeatable flow data.

It combines the most feature- and function-rich electronics with the industry's most advanced flow sensors to achieve a truly state-of-the-science flow metering solution for industrial processes and plant applications.

It is ideal for the measurement of air, combustion air, oxygen, natural gas, synthesis gas, methane and many other process gases.
www.fluidcomponents.com; 760-744-6950