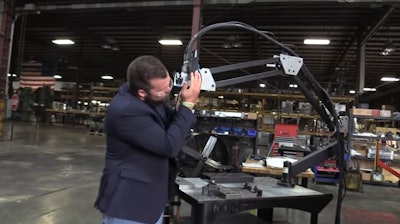 Founded in 1984, FlexArm designs, manufactures, and assembles tapping machines and assembly arms at its facility in Wapakoneta, OH. The company also happens to have a few impeccable dancers on staff.
Taking a new approach to machine tool marketing videos, the company has put out a pair of videos "for the love of machine tools."
The first video is set to Lionel Richie's classic, "Hello," and features the guys becoming better acquainted with the tools.
The second episode is a dance number set to ABBA's "Take a Chance on Me."
Needless to say, the employees at FlexArm know how to have a good time while creating a video campaign.
Here's hoping these two are the first of many.
UPDATED: A bit of a departure musically, but they went with Moana for the third installment.