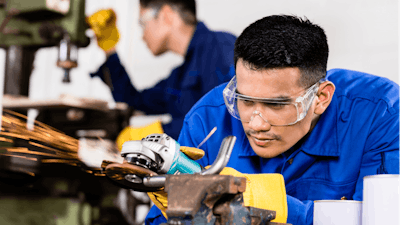 iStock/kzenon
Manufacturers are often faced with growth-related challenges, such as how to respond to industry consolidation, how to increase valuation and adapt to explosive growth.
With this as a framework, a subset of NIST MEP Centers discussed and analyzed the results and opportunities reflected across the country in our work with small manufacturers.
This post will share some of those best practices and outcomes of how smaller, closely held and often family owned, manufacturers grew, adapted and changed to increase business valuation, support smooth growth, generational transition and owners retiring.
The industries ranged from utility vehicles to electronics and varied from 20 employees to 200. Below are some of these examples from Arkansas, Colorado, Iowa, Idaho, Philadelphia and Southern California.
Starting the Conversation
Typically, these were company/center relationships that initially began with cost-management projects. Subsequently the company owners/presidents and center staff had deeper, open ended discussions about the company's future such as "I'm worried about our slowly declining business lines and industry consolidation"; "my business valuation isn't enough to support my exit strategy"; or "I need help in changing my management style and culture to support my company's growth."
These types of conversations led to helping the companies articulate their current situation relative to their goals for the future and design an approach that would support that future ideal state.
Implementing Changes
Discussions leading to fundamental strategic changes took 3-4 meetings of a couple of hours each – not year-long drawn out planning efforts. Once these fundamental changes were identified, then the companies could execute on various projects with the centers' assistance and implement their new vision – be it cultural changes, marketing or business development, new product development, etc.
Several centers used structured tools that compared the manufacturer's valuation with their industry and then identified specific ideas for how the company could increase its valuation. For company owners and presidents who were seeking an exit or transition strategy, this really helped focus their efforts.
In other cases, as companies grow in an industry that is consolidating around flat sales, they had to come to terms with their goals (i.e., be taken over, become a low-cost survivor, or expand into new areas). In one case, Custom Microwave, Inc. of Colorado, worked to expand from offering radio frequency components into full-scale antenna systems and diversifying into a higher value added area with the local MEP Center's assistance.
What the Future Holds
The outcomes companies already are seeing are impressive. In one case, family members who had sworn off manufacturing are now excited to join a flourishing business.
In a couple of other cases the leadership transition is starting to occur based on growing sales and increased business valuation, with companies managing effectively through 100%+ growth.
Fundamental to these opportunities is seeing each company grow in both products and revenues as well as managing expenses, which increases the overall valuation of the company. This in turn supports the chance for retirement and generational transition.
These centers were able to help companies address long-term and extensive strategic business issues, not just managing costs. If you are struggling with issues of growth, transformation, leadership transition or retirement, please contact your local MEP Center to see how they may be able to help.
This blog appeared on the Manufacturing Innovation Blog. For more information about MEP workforce programs, click here.