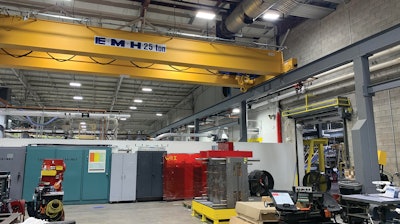 Huhtamaki, headquartered in Finland, is a global provider of sustainable food packaging solutions. With major customers coast to coast, including Walmart and some of our nation's largest fast-food providers, all 18 facilities in the USA are busy.
Huhtamaki has multiple plants in Ohio that remain busy as well. Their two plants located in New Vienna, Ohio, specialize in making plastic Chinet tableware (cups and plates) along with ice cream lids, and their manufacturing processes rely heavily on large plastic injection molding presses. When changeover requires a new mold or when problems occur that require mold repair, time is of the essence. In the past, Huhtamaki relied on subcontractors and riggers. Availability, timing, and pricing varied, which could all be problematic. More important, Huhtamaki was not in complete control of its manufacturing process.
How NOMAD Cranes Solved Problems
NOMAD freestanding cranes solved the problems and eliminated the need for outside contractors, putting Huhtamaki back in control. To date, EMH has installed four low headroom, high capacity (20-25 ton) NOMAD freestanding crane systems in each of Huhtamaki's four main production rooms. Huhtamaki now solves problems in a hurry and replaces molds on its own schedule. The company is no longer at the mercy of outside contractors and riggers. Pricing variations are no longer an issue either.
NOMAD cranes solved other problems too. For instance, when contractors and riggers were commissioned before, typical rigging constraints required laborers to lift and remove heavy molds from injection molding machines at an angle. Considering that mold weights ranged from around 7,000 pounds to as heavy as 55,000 pounds, shimmying them out of the machine at an angle was no easy task and could be problematic. Rigging crews had to perform their job with precision. Slight bumps could cause problems. Freestanding NOMAD cranes easily solved the problem because the cranes could be assembled and positioned so that the molds could be lifted perpendicular to the floor, or straight up for easy removal and replacement. Plus, if a change in machine position was ever required, the freestanding cranes could accommodate that as well. Base plate design allows most NOMAD systems to be installed without footers. And with bolted assembly, NOMAD free standing crane systems are easily dismantled, relocated, and reassembled as needed.
NOMAD Cranes are available for one, two, three or four-cell manufacturing systems, with safety-enclosed-type runway electrification, brackets that are welded on runway support columns, and with the conductor bars installed in the field. Each system comes complete with mounting plates, bolts, and bumpers and with top running end-truck travel speeds of 80 or 120 FPM (VFD). Wire rope hoists provide lifting speeds of 16/2.6 FPM with trolley speeds of 65 FPM (VFD). Bridge conductor cables are pre-wired to quick disconnect plugs. NOMAD Cranes come standard with radio control. Each system comes complete with a hand-held AAA operated radio controller. Rechargeable models are optional. A back-up pushbutton station can be provided as an option.
Extra Wide NOMAD Cranes
A customized EMH NOMAD XW (extra wide) freestanding crane was EMH's most recent solution for Huhtamaki in New Vienna. EMH customized it to the company's specific layout, with a 250-foot length and 50-foot span. Column spacings varied to fit the production floor. There were no headers to maximize the hook height on the system. EMH also provided a step box girder, allowing the hoist to ride between the bridge girders, maximizing lift over the injection mold machines but under the roof trusses.
Crane capabilities eliminated other issues too. With bolted assembly and flexibility, EMH was able to best position the crane to optimize Huhtamaki floor space. Then, because the crane could be assembled, disassembled, and reassembled again so easily, repositioning the crane was not a problem. According to a Huhtamaki MCP Manufacturing Engineer, "EMH had to shift the crane around three or four times to get the crane columns into the exact position we wanted, and because the foundation floor was not perfectly level, EMH had to shim and adjust some of the columns so that the crane would be perfectly level. Within 10 days the freestanding crane was fully tested and in full operation."
Commenting on NOMAD freestanding crane performance in general, the same engineer said, "We have been extremely pleased with EMH and their freestanding cranes. We now have one positioned over every plastic injection molding machine in our facility and have never had a problem. It's why we've never considered another crane solution from another manufacturer. We are especially pleased because we sometimes press these cranes to lift some of our heaviest molds, which are close to the crane's recommended weight limit. We have never experienced a problem."