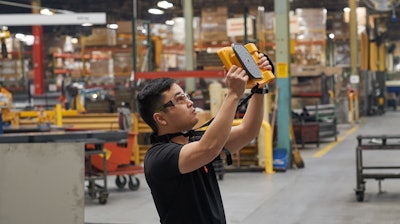 Fluke Corporation
Compressed air lines are at the epicenter of success or failure for many factories. When compressed air lines are maximally intact, the equipment they run also function as expected. But when compressed air lines are compromised, the results can be detrimental.
In a large factory, a compressor system can stretch hundreds of feet and sweep in and out through various other operational systems. Issues in a compressed air system can occur anywhere along those lines—including the compressor, air dryer, main line or equipment lines. Leaks are the primary cause of reduced performance in compressor systems. Leaks reduce air flowing through a line, providing an inadequate amount of air pressure to properly run equipment. So, the solution is easy—find and fix the leaks. But how?
Finding compressed air line leaks is easy—if you can hear them. Most people can't hear compressed air leaks in a completely quiet environment, let alone in a loud manufacturing plant. And even if you think you hear a leak, you must verify it, which means you need to be able to access it. Again, this isn't always easy in a busy factory environment where equipment is moving, and compressed air lines are potentially hanging from more than 50 feet up.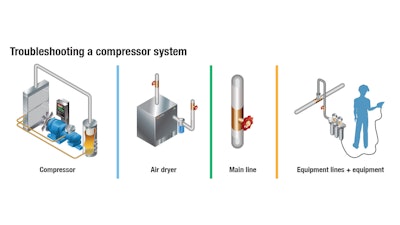 The archaic soapy water method of finding and verifying compressed air line leaks is inefficient and inadequate for the size and scope of compressed air lines in a manufacturing facility. An improvement on the soap and water method was ultrasonic leak inspection. While this analog method of leak detection was better, and until recently the best option available, it still had its drawbacks.
Ultrasonic tools use microphones to identify the sounds associated with escaping air/gas in a range of about 38 to 42 kHz. The method lacks breadth of frequency to truly be effective in large facilities. In addition, these devices still rely on human hearing to identify whether a noise is a leak or not. That makes the detection subjective, depending much on the user's experience and often resulting in identifying leaks that don't exist or missing leaks that are present.
Compressed air leak detection has made the leap from bubbles to ultrasonic to digital screen. Just as much as digitization has impacted the way we increase revenue through the manufacturing process, it has also impacted the way we decrease spending by reducing waste.
A more holistic approach to troubleshooting compressor systems involves scanning—using a tool that sees sound. The ability to scan the system from the ground floor is efficient AND effective in any size of plant. Efficient because you no longer need to troubleshoot individual components of the system during downtime and effective because the sensitivity of the sensors can detect leaks of any size in even hard-to-reach places.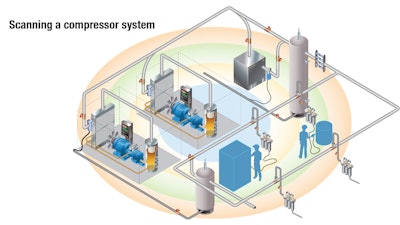 How (Well) It Works
Using a sonic industrial imager equipped with an array of ultra-sensitive microphones with a range of 2 to 52 kHz for an expanded field of view, maintenance teams can quickly and accurately locate air, gas and vacuum leaks in compressed air systems—even in the noisiest of environments. So simple to use, George Washington himself could learn in less than five minutes.
Visualize the system through the large 7" LCD touchscreen
Follow the path of the system, scanning for leaks
Isolate the sound frequency of the leak to filter out loud background noise
Repair the leak
Confirm the repair using the sonic industrial imager
In one day, you can scan your entire system to identify all the leaks in it. But then what? You might not have the resources on hand to repair all those leaks. Luckily, the sonic industrial imager includes powerful software that not only helps you identify where those leaks are within the system, but also allow for on-screen annotation, leak quantification (how big is that leak?), and smooth report development.
Asset tagging lets others know where the leak was found
On-screen annotation provides additional context and considerations for others
Leak quantification identifies the size of the leak to help you prioritize which leaks deserve attention first
Reports can include the image of the leak, asset tags, annotation, leak size and more—such as how much that leak will cost you if you don't fix it—all wrapped into a professional report to share with others, such as repair teams.
The digitization of factories has been historically linked to the manufacturing process where the ability to define exact design and material specifications has led to superior production in record time. Today, factories implement digital equipment and processes to monitor and manage manufacturing equipment and reduce waste. The goal for these factories is to increase revenue and decrease spending. The sonic industrial imager just made that goal a lot more attainable.
About the author: Javier Irazola, Global Product Manager for the Industrial Imaging group at Fluke Corporation, led the recent launch of Acoustic Imaging solutions. He has eight years of previous experience in engineering and project management for utility projects in USA and EU and three years working for the Product Innovation department of Fluke Industrial Group.