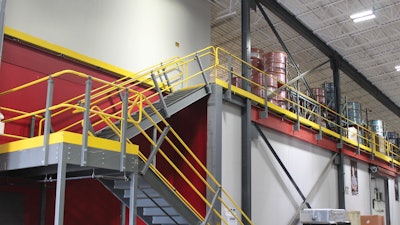 Wildeck
Located in Green Cove Springs, Florida, Vac-Con manufactures custom-built, truck-mounted machines to serve public and private environmental markets globally.
Since opening their doors in 1986, demand for the company's high-performing products has consistently grown. To ensure success in their future growth endeavors, Vac-Con engaged an experienced architect and construction lead to manage a campus renovation project.
Through a collaboration with Wildeck, a leading mezzanine manufacturer, Vac-Con was able to maximize the use of their space and create a showroom ready facility.
The Challenge
Vac-Con has manufactured more than 8,500 custom-built products for sewer cleaning, industrial vacuuming, hydro-excavation and water jetting. Each year, demand for the company's high-performing products has grown.
As Vac-Con's employee-owners looked to the future, the inability of the original campus to meet the company's long-term growth goals became evident, and a total campus renovation was planned.
To ensure that the company's production wouldn't be affected by the renovation, Vac-Con engaged Mike Sollit, an experienced architect and construction lead to manage the project. The new facility would need to be lean and efficient and incorporate areas for office space, assembly, storage, shipping and inventory with ample space for floor personnel to cut, weld, paint and assemble trucks.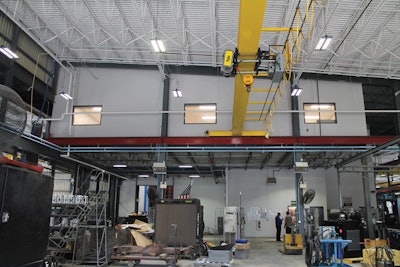 The Solution
As a fellow subsidiary of Holden Industries, Inc., Vac-Con was familiar with the benefits of how a Wildeck mezzanine could create and maximize space in their renovated facility and knew they wanted to incorporate the structures throughout the final design.
On the shop floor, mezzanines would create accessible storage areas for individuals working in assembly, storage, shipping and inventory.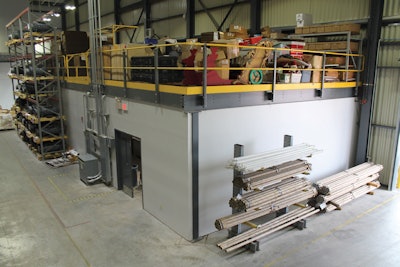 A mezzanine that extended over the shop floor would also create additional office space and provide management with an elevated view of production's daily operations.
Sollit, however, had some reservations about the free-standing mezzanines and accelerated project timeline. Knowing that the renovation's success depended on how well-prepared they were, Sollit, Vac-Con and Wildeck created a collaborative approach to the project.
In describing the working relationship he had with Wildeck, Sollit said, "The Wildeck team provided me with everything that I asked for. They were highly responsive and incredible to work with."
While discussing the mezzanine construction process, Sollit stated, "The installation of the mezzanine was especially quick. I was impressed with the speed at which the platform was erected. The materials went together so easily. It looked effortless."
Vac-Con routinely brings customers into their facility to inspect and approve trucks as part of their customer buying experience.