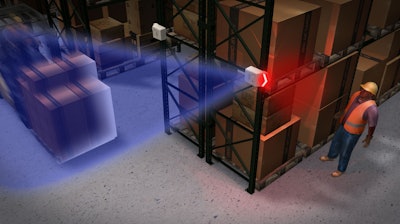 To help prevent accidents at aisle ends and other high-risk intersections, Rite-Hite (Milwaukee, WI) has introduced the Safe-T-Vu Warning System, a rack-mounted device that uses a flashing red LED-illuminated chevron to alert workers when traffic is approaching from other directions.
Part of any facility's best safety practices, Safe-T-Vu uses unidirectional microwave sensors to detect approaching traffic. When an object is within sensing range, the red LED-illuminated chevron flashes in the direction of the traffic. This warning system has an adjustable detection zone and sensitivity, depending on the workspace. Up to 10 units can run from a single power source.
Safe-T-Vu has a durable, heavy-duty construction that can withstand harsh environments and impacts. Designed for indoor use up to 120 degrees Fahrenheit, Safe-T-Vu uses magnetic mounting to allow for quick attachment to metal racking and includes additional mounting points for non-metallic surfaces. A strong tether is included with the unit in the event of an accidental impact. Safe-T-Vu also has an additional sensor that flashes yellow chevrons to indicate if the unit's mounting location has been hit.
When enabled with Rite-Hite's IIoT platform Opti-Vu, Safe-T-Vu helps safety managers collect data on traffic flows. This step can help managers make data-driven decisions to improve traffic, offer training and ultimately reduce the chances of an accident.
www.ritehite.com, 800-456-0600