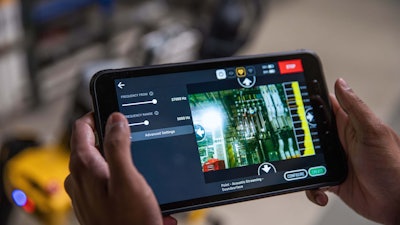 Autonomous robotics allow industrial maintenance teams to better monitor and troubleshoot equipment even in hazardous areas where it would be unsafe for workers to venture. Since 2021, Fluke Process Instruments (Everett, WA) has worked with Boston Dynamics to bring its SV600 Fixed Acoustic Imager capabilities to Spot, the world's most widely used legged mobile robot. With the new firmware 3.3 release for Spot, the robotic dog, the SV600 is even more fully integrated with the robotic system making it easier to program acoustic inspection actions directly from the Spot tablet. Immediate insights on user assets are available in Boston Dynamics' remote inspection software, Scout.
Using powerful SoundMap technology, the SV600 can detect, locate and visualize air and gas leaks or changes in mechanical sound signatures across the process and equipment in real-time before they become costly problems. This provides facilities with further insights into product quality or safety concerns and the ability to quickly detect changes across compressors, pumps, pipes and more.
Designed to go where other robots can't go and to perform a broad number of tasks, Spot traverses unstructured terrain to automate industrial inspections, monitor remote or hazardous environments, and provide situational awareness in remote settings. With the SV600 as a payload for Spot, industrial acoustic inspections can occur regularly — and safely — throughout the entire plant. And now users can quickly define every aspect of Spot's Autowalk and acoustic inspection route from the Spot controller with the results reported through its Scout software. New features to Scout include user permission sets and dashboards for better visibility to completed missions and actions.