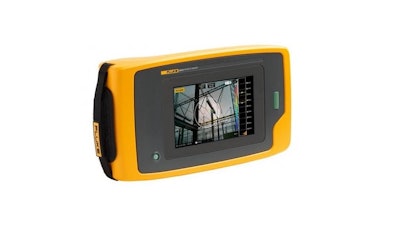 Inspecting large conveyor systems to troubleshoot potential issues can be an inefficient and complex task. The Fluke ii910 Precision Acoustic Imager with the new MecQ Mode from Fluke Corporation (Everett, WA) allows maintenance technicians to quickly scan large areas and visually pinpoint technical issues before they become critical. With the Fluke ii910, technicians can now see what they can't hear to easily identify problems across large conveyor systems.
Traditional methods such as vibration and airborne ultrasound may be complex and overwhelming. With its user-friendly interface and point-and-scan visualization, the Fluke ii910 Precision Acoustic Imager with MecQ Mode provides an easy-to-use solution that simplifies maintenance workflows. Additionally:
It is specifically designed for mechanical maintenance professionals to focus on specific areas of interest, ensuring precise detection and targeted maintenance.

It filters out industrial noise to ensure reliable detection even in challenging conditions.

Because the ii910 features contactless scanning, it allows technicians to safely access hard-to-reach areas from a distance, reducing risks on the job.

The ii910 is part of the Fluke suite of precision acoustic imagers that allow maintenance technicians to visually pinpoint leaks in compressed air, gas, steam, and vacuum systems, and partial discharge in high-voltage power lines, insulators, and transformers.

Now with the addition of the MecQ Mode on the ii910, teams can visualize potential issues with conveyor systems before they lead to downtime.

MecQ Mode is available now on all Fluke ii910 Precision Acoustic Imagers. For existing customers, MecQ Mode will be added through a free firmware upgrade.
www.fluke.com, 800-44-FLUKE