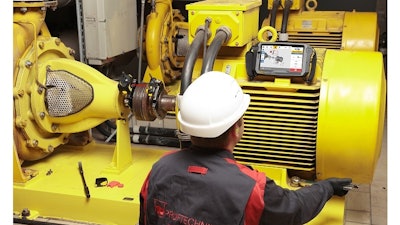 Misalignment causes at least half of all damage to rotating machinery, but instead of fixing the problem, teams often just treat the symptoms of misalignment by replacing bearings, couplings and seals because they think alignment takes too long. The new 831 Laser Shaft Alignment Tool from FLUKE (Everett, WA) makes shaft alignment easy with an intuitive guided user interface that enables quick and complete shaft alignment without advanced training or complicated programs.
While it's easy to use, the Fluke 831 is still powerful enough for the skilled technician, letting them cover more machines with all the functionality needed on the plant floor — from thermal growth calculations to user defined tolerances and more.
The Fluke 831 features:
High performance and precise results —

It leverages powerful features, like unique extend mode to handle gross misalignment and an integrated thermal growth calculator that automatically factors the dynamic machine changes into the result.

Quick setup and intuitive user interface —

Its quick setup and tablet-like, intuitive guided user interface make the Fluke 831 laser alignment tool more user-friendly than any other conventional measurement method. Align coupled shafts in quick, easy steps.

Adaptive Alignment — Enables maintenance and reliability teams to address the full variety of horizontal, angular, and vertical alignment challenges.

Share data via the cloud — Its integrated WiFi cloud solution easily transfers data from the Fluke laser alignment tool to the ARC 4.0 PC software.
The Fluke 831 allows shaft alignment to become a regular part of the maintenance routine leading to less energy consumption through the elimination of reaction forces inside rotating machinery, increased reliability, reduction in costs through a decrease of spare parts and extended parts life, and increased maintenance intervals due to longer machine life.
www.fluke.com/en-us/product/mechanical-maintenance/laser-alignment/831