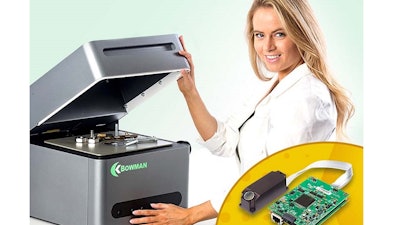 Coating measurement is its most common function of X-ray fluorescence; the better systems also perform alloy analysis, and solutions analysis. All Bowman (Schaumburg, IL) XRFs can determine the % composition for each alloying element and alloy grade numbers. For solution analysis, metal ions in plating baths can be quickly quantified.
XRFs use collimators or polycapillary optics. The latter produces a clean excitation beam with no scatter. Faster test speeds are enabled by a small x-ray beam, and flux that's 100X higher than a collimator. Higher flux allows the counting of more photons, and enhances precision.
On the detector end, Silicon Drift Detectors produce the highest count rates, and highest spectral resolution. They have the lowest baseline noise, best detection limits and greatest versatility in element testing range, including the ability to measure %P in electroless nickel.
Because of their high spectral resolution, SDDs are best able to precisely measure overlapping elements – those "neighbors" on the periodic table - nickel, copper, zinc, chrome and iron – where there's minimal separation of signals between them.
Another Bowman feature that gives platers an edge in fast, accurate thickness measurement is laser auto focus.
Here, the software seeks the center of the laser, which is calibrated at a fixed angle to define the working distance. It then moves the Z-axis to the laser center for precise, consistent measurement distance. This ensures samples are within a few microns of the in-focus position. Bonus: it does so in 2 seconds or less.
Visit Bowman at SUR/FIN booth #328.