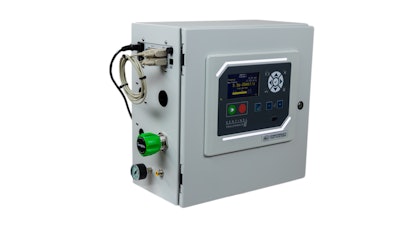 Cincinnati Test Systems (Harrison, OH) has released TracerMate II, providing manufacturers with a fast and easy-to-use platform to detect and locate very small leaks. TracerMate II updates the previous generation of TracerMate with many new features, to deliver an integrated tracer gas management and micro-leak detection instrument that works with any major brand of gas analyzer. TracerMate II works with helium, the most common tracer gas used for micro-leak detection, but it can also control systems with other gases such as Forming Gas, a hydrogen/nitrogen mix or carbon dioxide.
Manufacturers can use TracerMate II to perform a high-resolution pressure decay test followed by leak location on the same test station. As a result, they can reduce the costs associated with extra test stations and part handling. This replaces the dunk tank and soapy water approach on the production line or in the repair bay with a reliable and automated dry method that eliminates operator subjectivity. Now built on the same proven platform as the popular Sentinel I28, the TracerMate II offers many advanced features:
High-resolution pressure decay test and tracer gas leak location in the same instrument after a reject.
Twice the I/O as before: 12 inputs, 12 outputs, 8 valve drivers, for easier integration.
Higher pressures and increased flow.
Ability to monitor and program remotely.
Upgraded communications, with USB, 2 RS-232 ports and Ethernet.
More test types, customizable without additional programming.
More data storage.
A design that makes it plug-and-play with any brand name mass spectrometer or gas analyzer – no programming required.
www.cincinnati-test.com; 513-367-6699