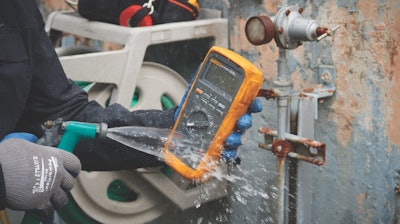 The new 87V MAX True-rms Digital Multimeter from Fluke (Everett, WA) is designed to work reliably in even the harshest industrial environments so technicians can take accurate measurements safely regardless of conditions. Built on the trusted features of the Fluke 87V, the 87V MAX is the most rugged DMM Fluke has ever made, offering an IP67 rating making it fully waterproof and dustproof. It has also been tested to withstand a four-meter (13 foot) drop. In addition to being incredibly rugged, the 87V MAX features the same powerful set of measurement functions and accuracy as the 87V, including:
True-rms ac voltage and current for accurate measurements on non-linear signals.
Measurements up to 1000 V ac and dc.

Measurements up to 10 A (20 A for 30 seconds).
Frequency measurements to 200 kHz.
A built-in temperature function to conveniently take temperature readings (using supplied thermocouple) without having to carry a separate instrument.

Min/Max/Average recording, plus 250 μs Peak min-max to capture variations automatically.
Unique functions for accurate voltage and frequency measurements on variable frequency motor drives (VFDs) and other electrically noisy equipment.
For more information on the Fluke 87V MAX True-rms Digital Multimeter, visit www.fluke.com/87v-max.
www.fluke.com; 800-44-FLUKE