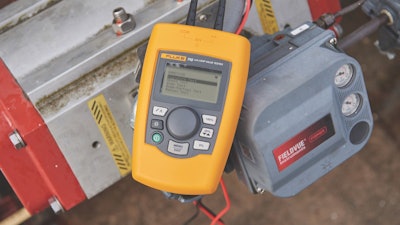 Control valve testing has meant using complicated testers that require extensive training, the removal of the valve, and often one-to-two hours of test time on the bench. The new 710 mA Loop Valve Tester from Fluke (Everett, WA) allows technicians to source the 4-20 mA signal while it interrogates HART data to collect critical information about the valve's position and status, providing quick checks of control valves while they are in place. With built-in test procedures and an intuitive interface, the Fluke 710 allows technicians to quickly and easily perform valve tests, while the valve test quick-check results provide at-a-glance diagnostics to make faster maintenance decisions. The 710 features pre-configured valve tests for reliable and repeatable testing. Test results are stored in the memory of the 710 where it can be uploaded to the included ValveTrack analysis software. ValveTrack allows users to:
Upload and plot logged valve tests taken in the field.
Compare previous uploaded tests to recent tests.
View valve test history by HART Tag ID.
Export valve test data to CSV for additional analysis in Microsoft Excel.
www.fluke.com/valvetester; 800-44-FLUKE