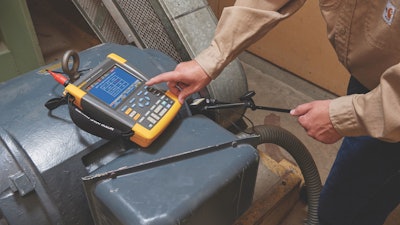 Motor-drive troubleshooting can be a time-consuming and complicated process with many opportunities for mistakes that can reduce the reliability of the tests. The new MDA-510 and MDA-550 Motor Drive Analyzers from Fluke (Everett, WA) simplify troubleshooting on single-phase and three-phase motor-drive systems by providing guided testing that enables technicians to quickly capture the most important measurements. The MDA-500 Series eliminates the hassle of setting up complex measurements, simplifying the troubleshooting process and delivering reliable, repeatable test results.
With the MDA-500 Series Motor Analyzers, technicians simply select a test and the step-by-step guided instructions show precisely where to make voltage and current connections, while the preset measurement profile ensures that all the necessary data is captured for each motor-drive section — from the input to the output, the DC bus and the motor itself. The portable MDA-500 Series Motor Analyzers:
Measure key motor-drive parameters including voltage, current, DC bus voltage level and AC ripple, voltage and current unbalance and harmonics (MDA-550 only), voltage modulation, and motor shaft voltage discharges (MDA-550 only).
Perform extended harmonics measurements to identify the effects of low and high order harmonics on electrical power systems.
Conduct guided measurements with graphical step-by-step voltage and current connection diagrams.
Use simplified measurement setup with preset measurement profiles to automatically trigger data collection based on the chosen test procedure.
Measure additional electrical parameters with full 500 MHz oscilloscope, meter, and recording capability for complete range of electrical and electronic measurement on industrial systems.
The MDA-500 Series creates as-found and as-left reports quickly and easily. Simply press "save to report" at any test point or measurement and the analyzer saves it to create comprehensive reports that document the entire troubleshooting process.
www.fluke.com; 800-44-FLUKE