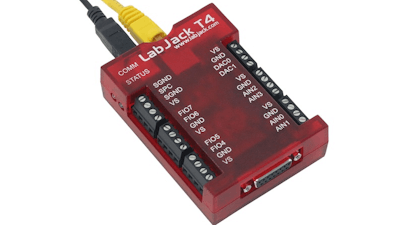 LabJack (Denver, CO) has released a low-cost, Ethernet based data acquisition (DAQ) device to the T-Series family. The T4 is a USB and Ethernet DAQ device that is compatible with Modbus TCP/UDP, making it suitable for a wide range of industrial automation, testing, logging and control applications. Features include:
12 analog inputs (±10V, 12-bit resolution).
16 digital I/O lines.
Multiple timers and counters (Pulse Timing, PWM Output, Quadrature Input).
Digital I/O lines support SPI, I2C, 1-Wire, and UART.
2 analog outputs (10-bit, 0-5 volts).
Easy cross-platform programming (Windows, Mac OS X / macOS, Linux and various ARM-based Linux distributions).
All LabJack hardware have a 5-year warranty and are built to withstand harsh industrial conditions for years of service.
https://labjack.com/products/t4; 303-942-0228