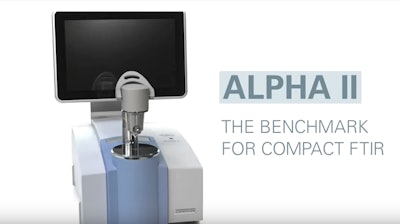 The ALPHA II from Bruker (Billerica, MA) features a new way to operate an FTIR spectrometer. With the integrated panel PC and the dedicated OPUS-TOUCH user interface, it takes only three touches for measurement, evaluation and report generation. OPUS-TOUCH is very intuitive and guides you conveniently through the measurement and evaluation process. Alternatively, the ALPHA II can also be operated with an external PC.
The ALPHA II includes:
A durable diode laser operated with patented technology to achieve a very high wavenumber accuracy.
The well-proven RockSolid interferometer, which accomplishes consistent high-quality results with outstanding stability.
All the capabilities needed for efficient routine analysis. It is ideally suited for quality control tasks like incoming goods inspection or the testing of intermediate and final products.
The optional wine analyzer is a FT-IR spectrometer system equipped with a robust ATR unit for the rapid analysis of wine, must or juice. Clear, turbid and viscous liquids, as well as liquids containing dissolved gas, can be measured without sample preparation. The ATR cell is temperature-controlled to guarantee accurate and reproducible results.