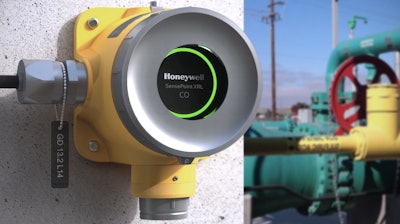 Honeywell
Honeywell (Lincolnshire, IL) announced a new connected gas detector designed to keep industrial operations safe while making set-up, maintenance and compliance reporting faster by leveraging Bluetooth connectivity. The new Sensepoint XRL fixed gas detector monitors industrial operations for specific hazardous gases, such as carbon monoxide or methane. Features include:
A Bluetooth-enabled design – can be set up and maintained remotely.
Produces system reports necessary for safety and environmental regulatory compliance.
Certified for explosive area applications.
Suitable for wastewater, utilities, power generation, laboratories, and downstream oil and gas operations.
The ability to monitor for hazardous levels of one targeted gas from among 23 toxic and combustible gases, including methane, carbon monoxide and hydrogen sulfide.
An IP 66-rating.
For more information, visit http://www.honeywellanalytics.com.