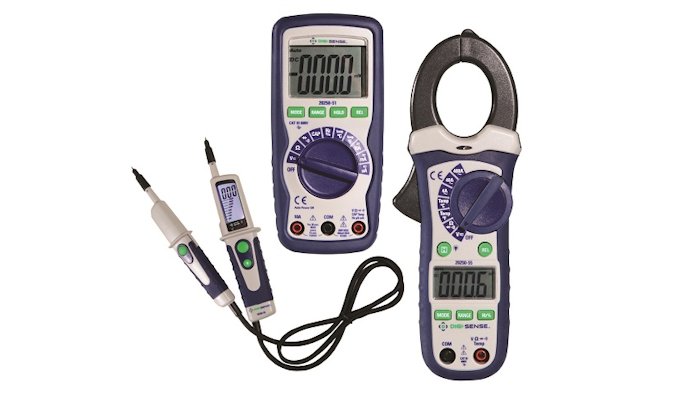 The new line of Digi-Sense electrical testing handheld instruments from Cole-Parmer (Vernon Hills, IL) includes NIST-traceable calibration to ensure instrument accuracy, adding value and peace of mind (included on select products). Electricians, engineers, technicians and more will appreciate these quality instruments that deliver consistent, reliable measurements. Included in the new Digi-Sense product line are:
Digital multimeters, with special features designed for a wide number of applications. Each meter includes NIST-traceable calibration.
Digi-Sense Three-in-One Digital Multimeter combines the most common voltage-current-resistance functions in a compact design at a very affordable price.

Digi-Sense Compact Digital Multimeters feature noncontact voltage detection.
Digi-Sense Industrial Digital Multimeters meet IP67 standards for dust and waterproof protection as well as CAT III 600 V and CAT III 1000 V ratings for safety.
Clamp meters, measuring higher currents than a multimeter, and featuring a jaw designed to easily get into tight spaces. Each meter includes NIST-traceable calibration.
Digi-Sense 400 A AC Clamp Meters

 

have a compact design for testing in tough-to-reach places.
Digi-Sense 1000 A AC Clamp Meters feature True RMS for improved accuracy.
Testers, ideal for checking safety conditions as well as front-line troubleshooting. Testers are not pre-calibrated.
Digi-Sense AC/DC Multifunction Voltage Tester tests power outlets and switches for correct circuit wiring before resuming power.
Digi-Sense 1kV Handheld Insulation Tester has live circuit detection to prevent testing if voltage is present.

Digi-Sense Receptacle Testers are a fast and effortless way to test the safety of electrical socket outlets. Available for circuit and GFCI.
www.coleparmer.com; 800-323-4340