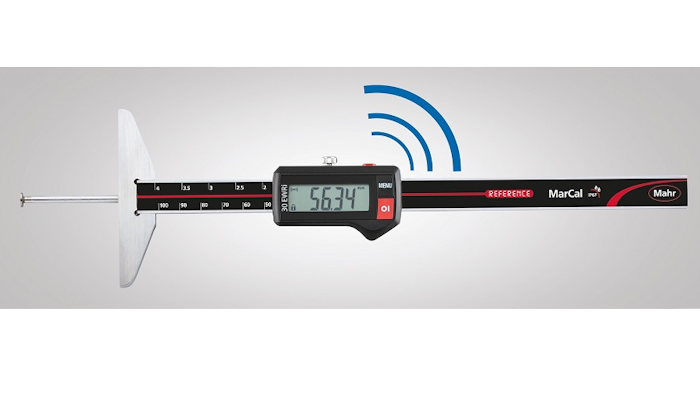 Mahr Inc. (Providence, RI) has expanded its line of wireless gaging products to include a range of depth gaging products. Digital Depth Gage MarCal 30 EWR, MarCal Specialty Caliper 16 EWR and Universal Caliper 16 EWR all provide wireless data transmission of depth probe measurements. Specifically:
Mahr's Digital Depth Gage Series, MarCal 16 EWR includes several gages designed for a variety of depth gaging tasks, including measuring groove widths and distance between grooves. All MarCal depth gage and caliper products offer IP67 resistance to dust, coolants and lubricants, and are easy to use with high contrast digital display, locking screw, zero reset function, and immediate measurement readout. The units include steel measuring surfaces, hardened steel slide and beam construction, raised and lapped guideways for the protection of the scale, and even include dirt wipers integrated in the slide.
Mahr's MarCal 16 EWR Digital Caliper line includes a universal model and several specialty caliper models. All offer precise depth measurement via an integrated depth rod with

 

measuring ranges of 0 - 6 or 8 in. (0 - 150 or 200 mm) and resolution to 0.0005 in. (0.01 mm). Specialty calipers include jaws for measuring distance between bores and grooves, and stepped workpieces.
Integrated wireless data transmission simplifies the recording and documenting process, especially in the networked factory of Industry 4.0. With the touch of a button on the instrument, or keyboard, a timer, remote control, or foot switch, acquired data is sent from the gage to an i-stick radio receiver plugged into the USB port of the computer.
www.mahrexactly.com; 800-343-2050