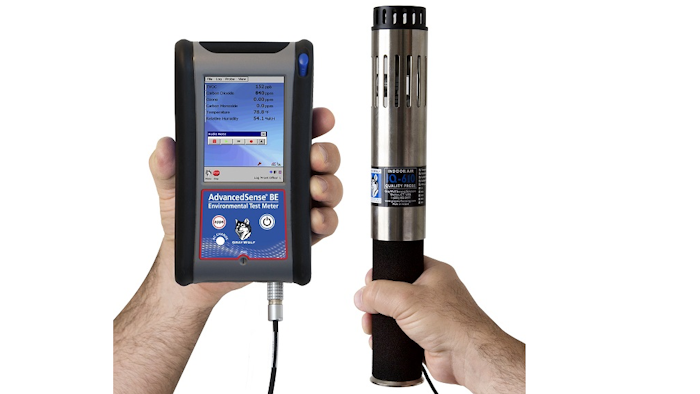 GrayWolf Sensing Solutions
GrayWolf Sensing Solutions (Shelton, CT) has introduced the new AdvancedSense BE, a rugged, simple-to-use, multi-parameter environmental meter. The purpose-built meter is suited for both walk-thru surveys and for trend-logging over hours/days/weeks/months. Additional features include:
Applicability in Indoor Air Quality (IAQ), Industrial Hygiene (IH), Facility Management (FM), Heating Ventilation & Air Conditioning (HVAC) and other environmental applications.
The ability to connect to GrayWolf's range of probes, displaying and logging one, or many parameters simultaneously.
The ability to measure Total Volatile Organic Compounds (TVOCs), Differential Pressure, Air Velocity, %RH, Temperature and/or specific gases.
An intuitive tiles-style menu along with drop down and smart icon menu bars.
Voice or audible queues confirm actions, such as instantaneous snap-shot logs.
An intuitive Notes interface for data documentation with text and audio.
Multi-language support, including German, French, Spanish, Italian, and Portuguese — Chinese, Korean, and Japanese available soon.
Data files that automatically rename from "Location1" to "Location2", or "Atrium Test 6" to "Atrium Test 7", etc.
A virtual keyboard to create descriptive data file names on-site.
Training videos installed for in-situ viewing. 
PC software that enables download, analysis, and report creation — optional Advanced Report Generator

software automates the entire reporting process.
For more information, visit http://www.wolfsense.com/index.html; or call 203-402-0477.