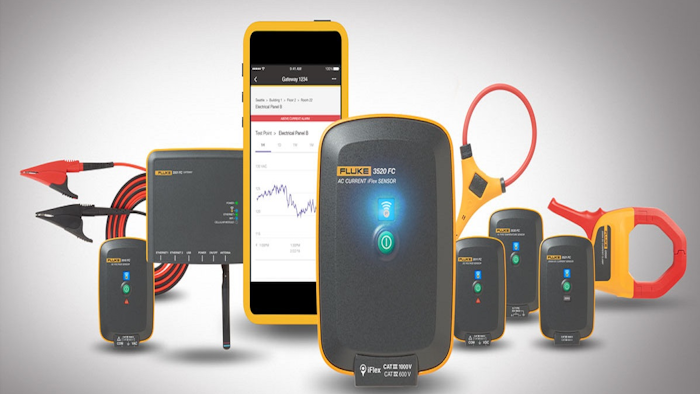 Fluke recently unveiled their 3500 FC Series Condition Monitoring System. The Industrial Internet of Things (IIoT) system consists of wireless voltage, temperature and remote power measurement sensors that share maintenance data collected by handheld tools. A wireless gateway and cloud-based data network then work in conjunction with the Fluke Connect Software and mobile app to disseminate this maintenance data. The system encompasses:
Two-way communication using Fluke Connect® Condition Monitoring software for receiving alarms through email or text message, and detecting fault development by tracking historical trends and current conditions.
Data logging and alarms that identify equipment health problems, along with the measurement history needed to correct them.
Remote monitoring and analysis tools that connect condition monitoring software with a computer or handheld device.
Simplified installation using Fluke's iFlex technology with current clamps and probes.
The Fluke Connect Condition Monitoring Software takes measurements as frequently as every second before sending this data to cloud-based storage where it can be viewed through a dashboard that encompasses a complete history of equipment performance, including measurements taken with Fluke wireless handheld tools, as well as work orders.
The system is comprised of: the 3501 FC Gateway that streams measurement data from up to 10 unique 3500 Series sensors; the 3510 AC Voltage Sensor; the 3511 DC Voltage Sensor; the 3520 AC iFlex Sensor that can collect measurements in tight spaces; the 3521 DC 2000A Current Sensor; the 3530 K-Type Temperature Sensor; the 3540 Three-Phase Power Monitor for collecting current, frequency, power, apparent power, non-active power, power factor, total harmonic distortion voltage, total harmonic distortion current and harmonic content current.
www.fluke.com/ConditionMonitoring