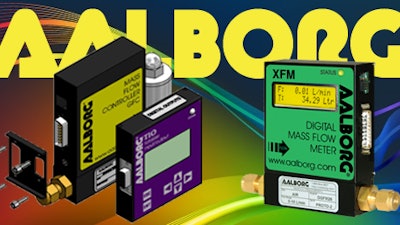 Aalborg
Aalborg's (Orangeburg, NY) TIO Totalizer converts analog mass flow meters and controllers into precision digital units via RS 232 or RS 485 interfaces (multi-drop capacity up to 64 devices). According to the company, the product can be used as a monitor for any devices with 0-5VDC/4-20mA inputs and outputs; no host PC presence is required for local or programmable set-point control. Features include: 
A compact design for wall, panel, field, or unit mount applications.
A bracket and screws provided in a mounting kit.
Input and output signals configured to specific applications.
The ability to make changes via a user-friendly menu.
Password protected process configuration parameters to prevent accidental or unauthorized changes.
Two programmable optically-isolated digital outputs.
A user-programmable optically-isolated pulse output with preset active low time interval.
Up to 9 digit total readings.
Updated every 100 ms and can be set to activate different events.
Accumulated total is backed up every second with EEPROM memory.
Batch control (lifetime and specific event totals). 
Configuration and monitoring utility software.
Displayed instantaneous, total, and accumulated flow rates.
For more information, visit www.aalborg.com; or call 845-770-3000.