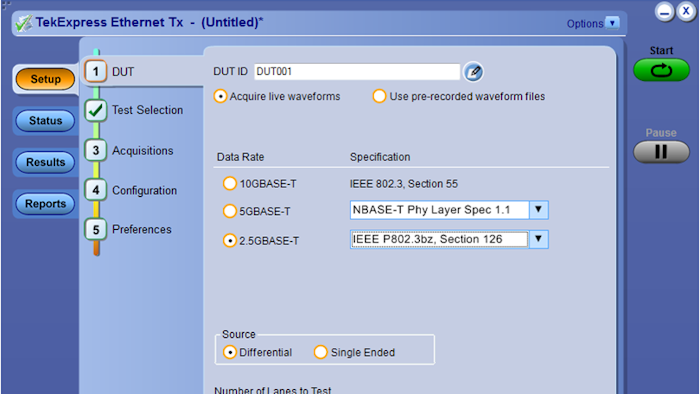 Tektronix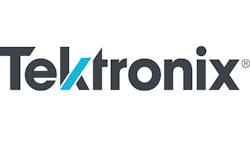 Tektronix
Tektronix (Beaverton, OR) today announced the industry's first automated compliance test solution for the NBASE-T specification and the emerging IEEE 802.3bz standard. Based on the TekExpress framework for oscilloscopes, the new application covers 2.5G, 5G, and 10G data rates in a single solution.
The NBASE-T specification and IEEE 802.3bz standard define 2.5 and 5 gigabit per second speeds over the large installed based of copper cabling found in enterprise networks and college campuses around the world.
The effort to move the industry to these speeds is being driven by the NBASE-T Alliance, which has already released PHY and MAC/PHY interface specifications. The IEEE 802.3bz Task Force is also working on a standard that is expected to be compatible with the NBASE-T specification.
"There is no question that NBASE-T/IEEE 802.3bz address a critical need for affordable network performance in corporate and campus environments. Fast, accurate conformance testing is a critical requirement to bringing 2.5G and 5G products to market," said Brian Reich, general manager Performance Oscilloscopes, Tektronix.
The new application automates the complex NBASE-T/IEEE 802.3bz compliance testing and debug process with such features as:
Automated oscilloscope set up.
Multiple lane test support.
Full data acquisition capabilities.
Custom reporting.
Flexible control over test configurations and parameters enable advanced margin testing while integrated return loss testing eliminates the need for a costly additional vector network analyzer.
"The migration to faster wireless access network speeds is essential to helping enterprises keep pace with explosive growth in smart phones, tablets and IoT in the corporate environment. Wired enterprises must deliver the performance required to connect these new wireless access points to campus switches," said Peter Jones, Chairman of the NBASE-T Alliance. "Automated compliance test solutions from Tektronix will play a critical role in helping engineers across the network industry bring plug and play 2.5G and 5G solutions to market in time to meet this need."
For more information, visit: http://www.tek.com/ethernet-test.