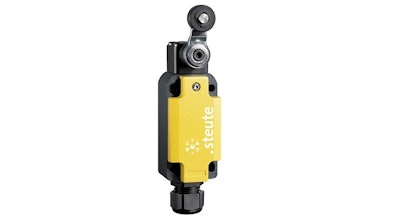 The Series ES 98 / EM 98 safety-rated limit switches from STEUTE (Ridgefield, CT) feature positive-break NC contacts to provide an ideal means for monitoring the opening of a machine guard/access door. Available with a variety of actuator styles for application versatility, its corrosion-resistant metal housing and IP69K rating assure reliable operation in challenging environments. The switches include the following features:
Switching System: Positive-break NC contacts (ES98 Series: Slow-action, EM98 Series: Snap-Action).
Contacts 1 NO/1 NC and 1 NO/2 NC.
Contact Material: Silver.
Connections: Screw terminals.
Rugged, corrosion-resistant, glass-fiber reinforced thermoplastic housing.
Ingress protection rating: IP66, IP67 and IP69K.
Operating temperature range: -20°C to + 90° C.
Mechanical Life: > 1 million operations.
Actuating head can be rotated 4 x 90°.
Rocking lever adjustable in 10° increments.
Certifications: cCSAus.
EN ISO 13489-1 compliant.
B10d: 2 million, TM: 20 years.
www.steute.com/en/wireless/products/wireless-position-switches.html; 203-244-6304