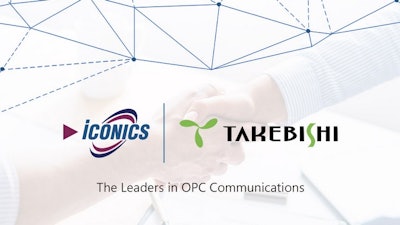 ICONICS (Foxborough, MA) has been selected by Takebishi Corporation, the leading OPC products supplier in Asia, as their primary distribution partner for the Americas, Europe, the Middle East, and Africa (EMEA). This partnership will bring a high quality and extremely competitive OPC Server solution called DeviceXPlorer OPC Server to these new markets. DeviceXPlorer OPC Server (DXP) is an OPC Foundation-certified OPC Server communications solution that delivers connectivity to over 230 different devices through 80+ communication protocols. This scalable solution is available in both 32-bit and 64-bit implementations for maximum flexibility and performance.
Takebishi DeviceXPlorer offers outstanding performance for Rockwell Automation, Siemens, Schneider Electric and other widely used controllers. And because it leverages the Mitsubishi Electric EZSocket Libraries, DeviceXPlorer is the best OPC Server for connectivity to Mitsubishi Electric products. The DeviceXPlorer OPC Server includes support for the following hardware and standards:
PLCs

: 3S, Delta, Fuji, GE (Emerson), Hitachi, IAI, IDEC, JTEKT, Keyence, Koyo (Automation Direct), LSIS, Omron, Panasonic, Rockwell, Sharp, Siemens, Toshiba, Yaskawa, and Yokogawa

Robot Controllers

: IAI, Kawasaki, Sanyo Denki, Yamaha, and Yaskawa

CNC and Machine Tools

: Fanuc, Mazak, SHIBAURa Machine, Sumitomo Heavy Industries, and The Japan Steel Works

Additional Controllers

: Anywire, Azbil, Chino, Codesys, Cognex, Comtrol, Eurotherm, Hakko, Hioki, Mars Tohken Solution, Microsoft, Moxa, M-System, MTT, Patlite, Panasonic, Phoenix Contact, RKC Instrument, Unitec, and Wago

Industry Standards

: BACnet/IP, Bluetooth, DDE Client, DNP3, EtherNet/IP, IEC60870-5, IEC61850, Modbus, MTConnect, OPC DA, OPC UA Client/Server, OPC UA Pub/Sub, Shared Memory, and CC-Link SLMP.