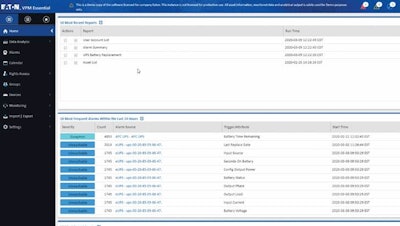 Eaton
Eaton (Raleigh, NC) has launched VPM Essential, a new version of its Visual Power Manager (VPM) software.
The new offering delivers comprehensive remote power monitoring capabilities for IT and data center professionals in a self-installable, subscription-based license ideal for small to medium business applications.
Supporting up to 1,000 monitored devices, VPM Essential provides a host of features, including a fully HTML5 web interface, auto discovery, mass firmware upgrade and node-settings configuration tools, monitoring of third-party devices and multi-tenant user access control.
Among Eaton's two levels of VPM licenses, VPM Essential provides additional simplifications, including a modified home page, device dashboards and set-up wizard.
For more information, visit www.Eaton.com/vpm.