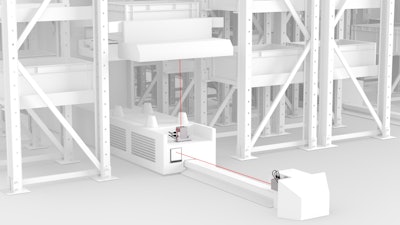 Leuze Electronic, Inc
Leuze Electronic, Inc (New Hudson, MI) announced the AMS 100i.
With its small dimensions of 105 x 68 X 75 mm, the AMS 100i is one of the most compact laser positioning systems on the market. With the AMS 100i, users are able to position with millimeter accuracy for up to 120 meters.
The AMS 100i features:
Minimum blind zone of 100 mm

Modular assembly options and easy alignment that facilitate installation

Operating range of up to 300 meters
Integrated device and window heating
Design for temperatures of up to +60°C
Ability to determine the position of a stacker crane
Ability to determine height of extendable forks of an automated guided vehicle
Only measures the actual distance to the relevant target