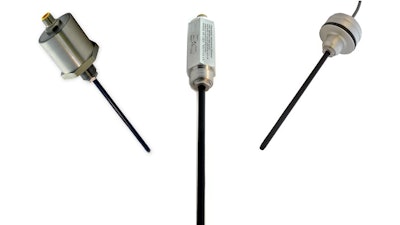 Alliance Sensors Group (Moorestown, NJ) has announced the continued success and expansion of the ME, MR, MHP, and now the SS-7 Series Linear Position Sensors used to measure the ram position of hydraulic and pneumatic cylinders in industrial, mobile or subsea applications. With no magnet required, the installation and cost of ownership is dramatically reduced without sacrificing accuracy specifications. The ME (embedded version), MR (port-mount version), MHP (port mount 25mm hex housing) and SS-7 (Subsea port-mount) Series fit into a gun-drilled cylinder in the same way a magnetostrictive sensor would be installed but without the counterbore necessary for the magnet. Additional features include:
MHP with 25mm hex housing.

Measurement ranges from 1 to 24 inches (25 to 600 mm).

IEC IP-67 aluminum or stainless steel housing.

Contactless; no wearout.

85 C operation (105 C option).

DC voltage or current analog output.

SenSet Field Adjustable Scaling.
www.alliancesensors.com; 856-727-0250