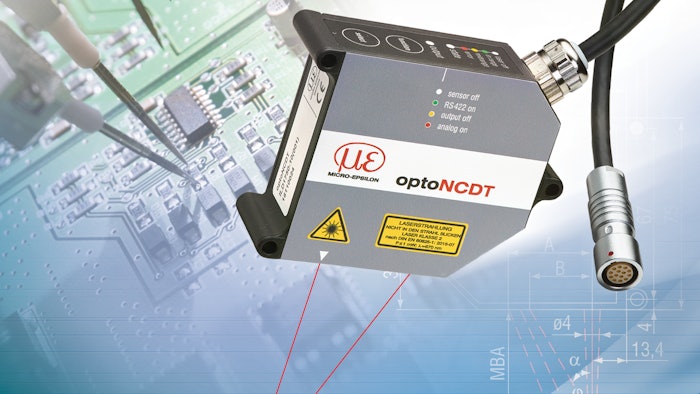 The new optoNCDT 1750-500 and 1750-750 laser sensors from Micro-Epsilon (Raleigh, NC) open up numerous other fields of applications optical displacement and distance measurements. Depending on the model, the measuring ranges now extend from 2mm to 750mm. This robust and powerful laser sensor is specially designed for industrial and automation applications, enabling measurements on difficult surfaces such as semi-transparent plastics and ceramics, PCB material, carbon and glass fiber-reinforced plastics. Specifically:
The sensor operates almost independent of the material and color.
Its flexibility makes it suitable for real-time quality inspection tasks in almost any industry such as electronics production, automotive, packaging, machine building or automation technology.
Very small objects can be detected due to the small light spot size.
The combination of unique performance and a wide range of features result in a sensor that takes a leading role in its class. New evaluation algorithms and enhanced components provide extremely high accuracy and dynamics. Due to its extremely compact design, the sensor system can also be integrated in a confined installation space.
www.micro-epsilon.com; 919-787-9707