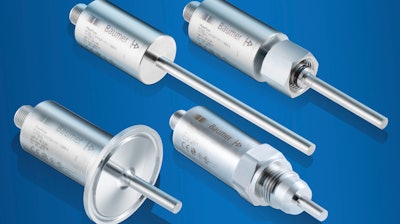 Baumer
With the FlexFlow family of flow and temperature sensors, Baumer (Southington, CT) has expanded its process sensor portfolio. Based on the calorimetric measurement principle, the FlexFlow family can monitor both flow velocity as well as media temperature. Additional features include:
An IO-Link and, depending on settings and connections, either two switching outputs or one switching and one analog output (4-20 mA/ 0-10 V).
The PF20H and PF20S, which are suitable for hygienic and industrial applications.
A symmetrical, centered design, so the sensors can be installed in the process independent of their installation position and orientation.
The ability to have several sensors simultaneously configured via IO-Link.
Diagnostic data polling and evaluation at all times.
A robust stainless-steel housing with integrated electronics and evaluation unit.
Temperature resistant to 150°C — CIP and SIP-capable.
For more information, visit www.baumer.com.