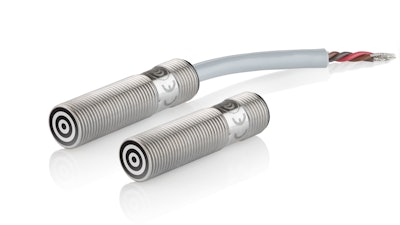 Emerson
Emerson (Louisville, KY) has introduced the Topworx GO Switch Model 52M, a 12 mm proximity sensor designed specifically for applications in outdoor and challenging industrial environments. The new sensor is suited for material handling, mobile equipment, industrial equipment, and food and beverage processing applications. Features include:
Dry contact proximity sensor technology that uses magnets to control a set of contacts.
No power requirement.
High reliability – tested to 5 million cycles at full-rated load.
A temperature range from -40° C to 100° C.
Simple contact arrangement.
Polarity insensitivity – eliminates need to specify NPN or PNP products.
Weld-field immunity for large magnet field applications
High and low current compatibility (5 mA to 2 A @ 24 VDC), which permits use with PLCs and relay-based control systems
For more information, call 800-867-9679; or visit www.emerson.com.