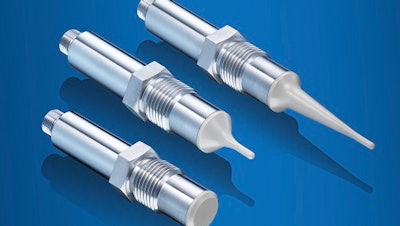 Baumer USA
Baumer's (Southington, CT) TER8 temperature sensors are based on RTD technology and designed for applications with demanding requirements on measuring accuracy and stringent hygienic standards. It is available both for front flush installation and in two variants with an immersion sleeve. Additional features include:
All wetted parts made of PEEK.
A sensor housing that fits into difficult to access spots.
A sophisticated installation concept that forgoes any elastomers, but remains 3A and EHED compliant to ensure optimum hygienic capabilities.
A front flush variant that allows for direct process integration, regardless of agitators or any other inside tank assemblies.
Hermetical sealing that prevents the ingress of steam.
Specialized insulation between sensing element and housing that isolates the media temperature to be measured from ambient impacts and ensures reliable measured results.
For more information, visit www.baumer.com/electronic-temperature.