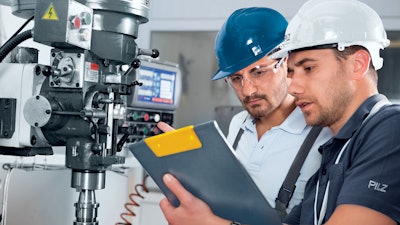 Pilz (Canton, MI), the automation company for the safety validation of plant and machinery, now offers machine manufacturers and operators a choice between three different levels of safety validation, selecting the scope and depth of validation that matches their exacting needs for a standard-compliant design of the plant and machine, plus maximum safety.
After risk assessment, creation of the safety concept and safety design then system implementation, safety validation is the final step towards the safe commissioning of plants and machinery. It is intended to ensure that protective measures are implemented correctly, and that the safety system is fully functional. International standards such as ISO 13849, IEC 62061 and IEC 61508 form the basis. They specify that machine manufacturers or operators must regularly confirm that the safety design has been implemented correctly.
Three customized levels include:
Level One, that contains a basic validation check that highlights key non-conformances.
Level Two carries out a more thorough examination, particularly in functional safety. This guarantees that the machine provides adequate safety measures.
Level Three, an intensive, detailed conformity check, as required for CE conformity.
At all three levels, machine manufacturers and operators benefit from the specialist knowledge of Pilz experts.
www.pilzusa.com