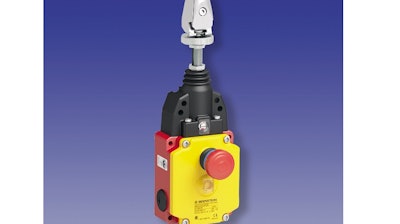 Altech Corporation (Flemington, NJ) announces the SRM Series of safety rope pull switches provide an e-stop capability over the entire length of the rope. They have a metal housing for use in applications requiring a rugged switch such as conveyor or machine systems. They work with ropes lengths of up to 250 feet. Specifically:
The SRM Series safety features include a latching-style reset switch that must be physically reset after the rope is pulled or loses tension, which is in accordance with IEC 947-5-5, DIN EN 60947-5-5 and ISO 13850.

Some models offer an emergency stop button as well.

Versions are available with 2 normally closed and 2 normally open contacts or 3 normally closed and 1 normally open contact

.

These devices can switch signal and power. The Series also includes a viewing window for users to see the position of the switch.

Mechanical life is 100,000 cycles and SRM Series switches are sealed against incursion of dust and water to IP67.