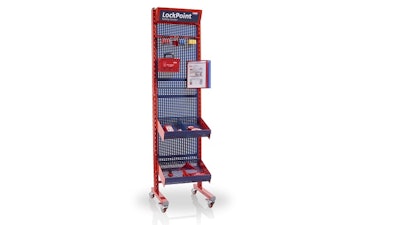 ABUS USA (Phoenix, AZ) introduced its latest safety product today, the LockPoint Mobile Safety Center. With its wheel-based feature, LockPoint can store Lockout/Tagout (LOTO) devices and documents in one location and be within reach of multiple work areas. LockPoint can replace all standard lock stations with its unique flexibility in placement and ample storage. Made of heavy gauge steel, LockPoint can endure industrial settings where hazardous machinery is operated. It is an OSHA 1910-147 LOTO Compliant product and encourages use of Lean Principles and 5S in LOTO. The LockPoint Mobile Safety Center includes the following accessories:
Storage baskets (2).
Storage basket divider (1).
Padlock display bar (1).
Document holders (10).
Document holder bracket (1).
Additionally, LockPoint can be customized based on a client's need to include additional accessories.
www.abus.com; 800-352-2287